Review Cameraboys
What Do You Need To Know About Cameraboys Before Registering?
More information about Cameraboys. The quality of the profiles on this platform. What chats are popular? Does it make sense to buy a premium membership, or can you limit yourself to the standard one?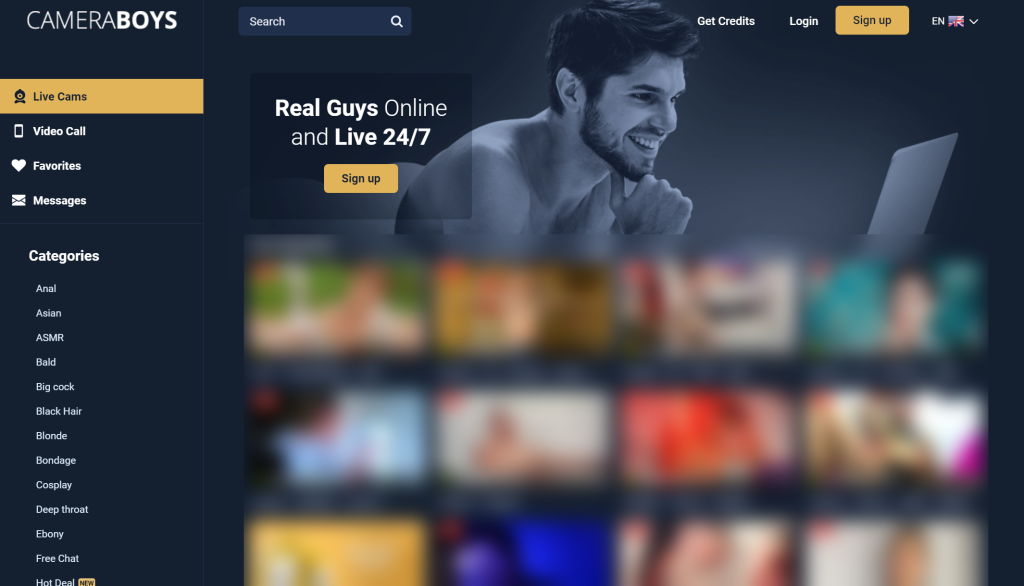 Cameraboys male is an adult cam site providing live sex cams for male and male lovers. The site presents non-professional models, but you can still communicate with them. Each model broadcasts live from his private room, communicating with clients through correspondence and voice.
Pros
there is an advanced search;
per second billing;
the high degree of site security;
there is a support service.
Cons
few professional models;
for unregistered users, there is only a standard set of ready-made messages.
Platform Features
Cameraboys men has a large selection of models, so with the help of a search, you can find the guy who suits him best.
In the search filter, you can set the following characteristics:
external data;
age;
the language of communication;
image quality;
kind of erotic specialization.
The selected model can be added to the Favorites section at the end of the search. And if you want to contact him again, you will no longer need to search again.
A Few Words About Chats
Most guys have a proper function, so you will see and hear them simultaneously, enhancing your erotic effect.
To start a conversation, you need to enter the Chat. Free Chat provides many gay guys to choose from, including other users and members looking for sexual adventures.
Unregistered users can only use specific pre-made messages, but if you are registered, you can send individual messages.
By the way, messages from the model will be highlighted on the screen in a different color so as not to confuse their messages with other clients.
All members' posts will have their post color, depending on their elite level on this platform.
If you like one of the guys and want to draw his attention only to yourself, go to a private chat for this. By activating their camera, the performer will also be able to see you, which makes the communication more emotional.
Private Chat has per-second, not per-minute billing, as on other webcams. This approach from the platform suggests that by having a Premium status, you pay for the actual communication time.
Interactive Toy. What Is It?
This option allows you to control the degree of excitation of the model, which varies in time from 1 to 150 seconds and in degrees from weak to strong.
A unique sign will be indicated on the guy's page to know which models have this function.
If you ordered a VIP show or Private Chat, you could use the Interactive Toy option by clicking on the toy icon at the bottom of the panel.
A section – Advanced- allows you to see all the models with the Interactive Toy option. Or, in the Search column, enter the query Interactive Toy, and the screen will show you everyone who has this function.
This feature is only used in VIP Show and Private Chat. In a regular free chat, this function is not available.
Differences Between Basic And Premium Memberships
The Premium subscription provides benefits, such as face-to-face contact with the model. It would help if you were in Private Chat to use the particular actions listed on the model's profile. The cost of one message is 1.5 credits.
To have Premium status, you must select this category immediately during registration on the site. If you didn't do it immediately, you could switch to this status by purchasing credits.
Can I Delete My Account?
If you close your account, click – Forget My Data in the Privacy section's menu. By deleting your profile, all your data that the system stores are erased, except as required by law.
Security And Support
Cameraboys guys use security measures to protect personal data. The payment system complies with international PCI DSS standards and is systematically verified by McAfee and VeriSign. There is software with multi-level network protection by encryption method.
The support service will help to solve both technical and personal issues. You can contact the manager at any time convenient for you and get help.